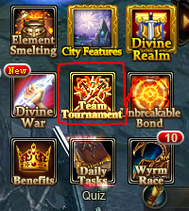 Team Tournament is a PVP Team vs Team(5v5) Competition
You Compete against your own Timezone (PST, GMT, HKT, EST, CST)
.
Cross Server Happens once Few Months
Sign Up: (2day)
RULES
You Need 5 players to create a team 4 or less WONT BE ABLE to Participate
.
Preliminaries: (1day)
If you Made it passed Sign up, you will Enter Preliminaries where you will Face off with your Server, for Top Team
-Winners will represent your Server (1st and 2nd Ranked Teams)
-Losers will not play, but gain a reward (3rd to 12th Teams)
-If there is 1 Team only, You Auto Win
RULES:
1st Rule: Battles will Begin at 13:00 and End at 18:30, Rewards can be collected from 18:30-24:00

if you Fail to collect your Rewards it will be Sent in Mail (Dont Worry)
Battle Mode Rules: Each Battle 2 Teams will go head to head till 1 team wins (Scheduled)

(Advanced PvP) Players will Face (1 vs 1) and where they are Assigned in Team formation (it can change)

Every Victory By Player you regain 5% HP (1 vs 1)

If you a Player wins 3 in a Row that player will be restrained for the whole fight, and other players

Victory: if you defeat all Players or more than opponents team (5 to 0, 4 to 1, 3 to 2)
Teams that Win vs Opponent: 3points

Teams that Lose vs Opponent: 1points

Without an Opponent: 0points
2nd Rule: 1st and 2nd Teams will Progress, the Rest will Leave
Rewards:
Prelim Ranks 1-2 Chest
Prelim Ranks 3-12 Chest
[Draw]: After Victory you Draw for a Bracket (Fail too it will Auto Bracket you)
Group Match: (2 Day)
-Congrats you made it pass Prelimaries
-Once you reach here you will be Assigned Group Bracket
-Group Bracket Ranges from A to P
-Same Rules as Before but something New
-Group Match is a 2day part
.
Knockout Round: (1day +Final Day)
-This is like Domination
-Rules are the Same as Group Match
-You May Wager who is winner of the Team (Rewards will be distrubuted
-The Teams that are Chinese Named are "[EMPTY TEAMS]" Meaning you Skip another to Next Round (You are lucky if you get that)
-There are 2 Divisions in this one, once it goes to the Last 2 Champions they will go Head to Head for the Final Battle
"Congratulations, You Still have More to go in this game.. Enjoy the Rewards"