Daily loot contains the Devotion Collector and the Daily Rankings.
Daily Loot was a part of the Calendar/Log In Daily until it was separated to Check-In and Daily Loot.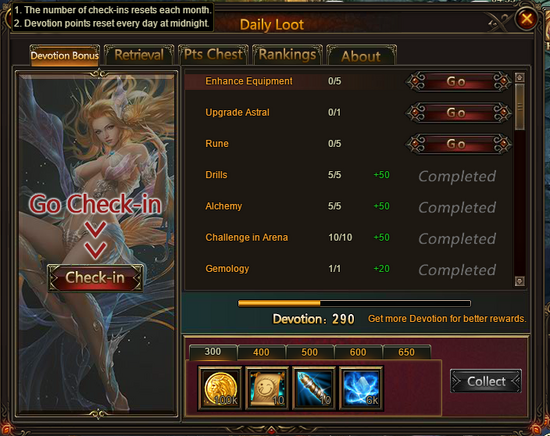 Devotion Daily
Retrieval
Allows to retrieval of rewards from daily events for the previous day.
Payment with gold will retrieve 60% of lost resources.
Payment with diamonds will retrieve 100% of lost resources.
Events available for retrieval:
World BOSS: 60%=234,000 | 100%=390,000
Wyrm Race: 60%=134,000 | 100%=224,000
Quiz: 60%=67,200 | 100%=112,000
Team Arena: 60%=36x Dragon Crest | 100%=60x Dragon Crest
Team Dungeon: 60%=11,580 Warsoul and EXP | 100%=193,000 Warsoul and EXP
Pts Chest
Ranking
About
Contains the latest patch notes.
Community content is available under
CC-BY-SA
unless otherwise noted.